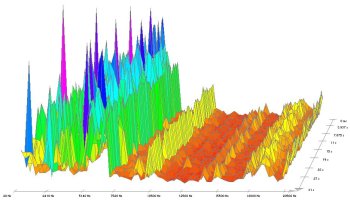 You see and hear a mix of waves of a radio tower: demodulated, continuous-time, periodic radio signal; operational radio, GSM, TV line signal etc.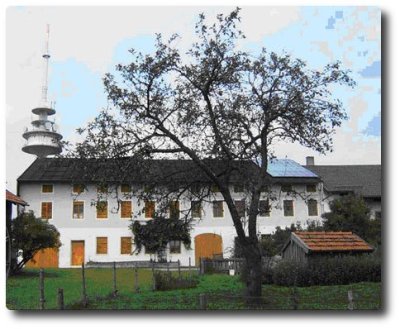 This is what a fruit tree looks like, which leaves are burned. Healthier trees in the background as well as bushes and trees which are protected from the radio tower as well as the fruit trees on the house in the background (Schnaitsee, Upper Bavaria) show this conspicuousness less. After the summer of 2005 was rather rainy, probably there can be no question of withered trees in July/August. This is absolutely not an individual case! More about "vegetating of trees under radiation exposure" In the journal "Wetter-Klima-Umwelt", issue 4-2006.
Three-dimensional representation of a spectral analysis of a periodic GSM mobile transmission signal of a broadcasting system on the roof (filtered 50-Hz hum; 2-2002). Noticeable are the time axis crossing harmonic signal edges.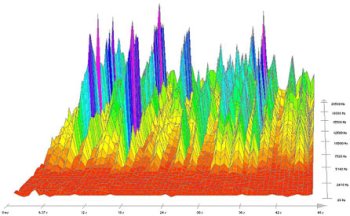 An insight into a 3D spectral analysis of the ELF alternating field idol of our nature (good weather, USA 7-2002) with broadband atmospherics / sferics. Of particular interest are time passing, additional stochastic pulse discharge processes, which offer a broadband, with changing preference energy maxima and so they only give "little" adaptive information within the meaning of weather sensibility and frequency positions windowing to the body (s. resonance of the atmosphere, inter alia, reflecting cloud layers).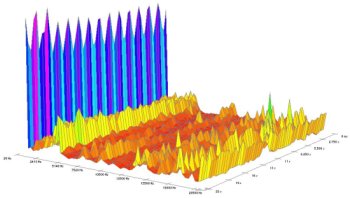 Federal railway: 16 2/3 Hz with harmonics and radio interference; continuous-time or periodic signal behavior. In this spectrum analysis you can hear the radiation of a catenary of a railway line.
ULF earth's magnetic field measurements of October 2006.