Deutsche version
自然适应的栖所在汽车和房子 - 帮助对抗技术辐射 (电子烟雾)
Nature Compliant Habitat in Cars and Houses - Helping Against Technical Radiations (electronic smog)
>全新! ! 世界独一无二的发展!! -- 传单
BRAND NEW!! WORLD UNIQUE DEVELOPMENTS!! - Flyer
Biological climate Without side effects by urban radiant electronics 无城市辐射电子副作用的生物气候
Our tube devices create a bio-Friendly habitat without side effects to stop stress damage from electromagnetic pollutions. 我们的管道设备可以营造无副作用的生态栖息地,从而阻止电磁污染的应激损伤。
They are a replica of an electrical diode with layers filled up with nature-related materials. 这些管道是电子二极管的复制品,外覆天然材料层。
Passive systems MHR-SHLS br> 无源系统MHR-SHLS
The devices are recommended to and electric tension from common sources of EMF 50/60 Hz, 110/230 V power supplies, radiating electronic devices or EMF field emissions from WLAN, mobile phones, DECT plus base stations (electronic transformers, wireless network units). 建议该设备使用EMF 50/60 Hz, 110/230 V普通电源和电压,辐射电子装置,或无线局域网、移动电话、DECT+基站(电子变压器,无线网络单元)的电磁场场致发射。
Natural Fair Weather Field Emitter 自然好天气场致发射器
Gives your body the sensation of well-being you feel on a bright sunny day far away from cities in the nature. 让您体验自然界阳光明媚的日子,以及远离城市的惬意
Our devices transmit an exact duplicate of a naturally occurring atmospheric energy field, only obtainable under very specific weather conditions. 我们的设备可以精确传输自然存在的大气能量场,这些能量场只有在非常特殊的天气状况下才能获得。
A personal transmission device will be transformed into a wearable form, such as necklace. 个人传输装置可以变形为项链等可佩戴形式。 www.sferics.eu 互联网链接(电影)到电视时,产品演示;在这里中国字幕:
Contact: 个人传输装置可以变形为项链等可佩戴形式。:
Florian König Enterprises GmbH
Gärtnerweg 48
D-86825 Bad Wörishofen
Germany
BRAND NEW!!
全新!!
WORLD UNIQUE DEVELOPMENT!!
世界上独一无二的技术!
Create a personal bio-friendly habitat, in a world full of damaging EMF transmissions: 在充满破坏性电磁场传输的世界里 营造私密生态栖息地:
And Electric Tension - 和电压
Supports Healing - 辅助治疗
Increase Vitality & Energy - 增加活力与精神
Get More Restful Sleep - 获得更充分的睡眠
Natural Remedy, No Side Effects - 自然疗法,无副作用
Certified, Patented Devices - 经认证的专利设备
COMPANY & TEAM
In 1990 was found the "Florian M. Koenig Enterprises GmbH" (fk-e.de), which was supported by the father of *Dr. Sc. Florian M. Koenig, Prof. Dr. em Herbert L. Koenig (Technical University of Munich). 公司与团队
1990年"Florian M. Koenig Enterprises GmbH"(fk-e.de)成立,获得*科学博士Florian M Koenig的父亲em Herbert L Koenig博士教授(慕尼黑理工大学)的支持。
Meanwhile *Dr. Koenig created over 150 international patent applications first as one of the pioneers regarding head-related and lead scientist of the ultrasone.com, a company best known for manufacturing and sales of high-end 3D audio engineered headphones. Besides Dr. Koenig was a popular speaker at international Conferences for audio. In recent years Dr. Koenig Has been one of the leading researchers for Naturally occurring and artificially created electromagnetic fields(*icems.eu). 同时,*Koenig博士作为ultrasone.com的首席科学家和耳机方面的先驱之一,申请了150多个国际专利。ultrasone是一家以制造和销售高端3D音效设计耳机闻名的公司。Koenig博士还是在国际音频会议上很受欢迎的演说家。近年来,Koenig博士成为自然存在电磁场和人为制造电磁场领域(* icems.eu)的前沿研究人员之一。
SCIENTIFIC URGENCY
科学紧迫性
All living things are sensitive to naturally Occurring electromagnetic fields. These can make us feel bette —on a bright sunny day or after a Thunderstorm or they can make us feel worse, such as on an overcast day or from storm fields like the German "Foehn". Dr. Koenig has studied these fields all over the world and has identified and isolated a variety of distinct signals produced by the earth itself and various weather patterns. In the last 100 years, artificially created electromagnetic wave emissions have become more and more powerful and widespread. Signals from cell phones, cell towers, wi-fi transmitters and high voltage power lines are "not 100% proven safe" and Dr. Koenig, along with other noted scientists, are documenting negative health effects and stress-related disease correlations with these unavoidable and unregulated electromagnetic fields. 所有生物对自然存在的电磁场都是敏感的。这些电磁场可以使我们在阳光明媚的日子或一场雷暴雨之后感觉更好,但是也可以让我们在阴天或类似德国"焚风"暴雨场中感觉更糟。Koenig博士研究了存在于世界各地的场致,并确定和隔离了地球本身和各种天气类型下产生的各种不同信号。在过去的100年中,人为产生的电磁波发射已变得越来越强大和广泛。来自手机、手机信号塔、无线网络发射器和高压电源线的信号"未100%证明是安全的",因此Koenig博士和其他著名的科学家一起记录了这些不可避免及未加管制的电磁场的不良健康效应以及与应力有关的疾病的相关性。
ZERTIFIKAT CERTIFICATE
DARTSCH SCIENTIFIC GMBH Institute of Cell Biological Test Systems
Herewith certifies that the products named Multiple chamber cavity resonators (MHR and SHLS) manufactured and distributed by Florian Koenig Enterprises GmbH, 82110 Germering, Germany have been tested for their potential to neutralise unwanted cellular effects of Electromagnetic alternating fields as emitted by DECT phones.
资格证书
DARTSCH 科学股份有限公司
细胞生物学试验系统研究所
特此证明Florian Koenig Enterprises GmbH(德国盖默灵82110)制造和分销的命名产品多室空腔谐振器(MHR和SHLS)已经过测试,其电势可中和DECT无线电话发射的电磁交变场引发的不必要的细胞效应。
Test results
By using cultured connective tissue fibroblasts in several individual experiments With a variety of setups, we could demonstrate that the above mentioned Multiple chamber cavity resonators are able to neutralise the cellular effects of Emitted electromagnetic alternating fields up to 98%. Thus, the devices can be Recommended for individuals in order to reduce unwanted health effects of Electromagnetic alternating fields emitted by devices such as DECT phones.
Schongau—March 12, 2016
试验结果
通过在若干独立实验(设置不同)中培养结缔组织的纤维原细胞,我们可以证明上述多室空腔谐振器能够中和高达98%的发射电磁交变场引发的细胞效应。因此,可以向个人推荐该装置,以减少DECT无线电话等设备发射的电磁交变场对健康产生的不良影响。
Schongau - 2016年3月12日
The MHR & SHLS products are recommended until Such time that home, office and commercial electrical systems or devices are designed and manufactured without the harmful EMF signatures they transmit now. 设计和制造的家用、办公和商业电气系统或设备不存在有害电磁场后才能推荐MHR&SHLS产品。
Protect your daily living environment with MHR & SHLS that connect to your electrical systems, Which cancel stress-causing EMF pollutions as a Personal shielding. For this, as evidence of the functional quality and in addition to this, several "Peer Reviewed Papers" have been published since 2017; see linked papers by 2017, 2019, 2020. The latest paper will follow at the turn of the year 2020-2021.
MHR & SHLS 可以连接至电气设备,能够消除应力引发的电磁场污染,从而发挥防护作用,保护您的日常生活环境。为此,作为功能质量的证据: 除此之外,自2017年以来,已经发表了几篇"同行评审论文"。 请参阅到2017年,2019年,2020年的链接论文。最新论文将在2020年至2021年之交。
研究由德国政府赞助
OUR PRODUCTS & SERVICES 我们的产品与服务
MULTICHAMBER SYSTEMS (MHR, SHLS), between €390, - and € 590, - (*prices plus 19% VAT in DE) -多腔室系统(MHR,SHLS)390欧元– 590欧元-(*在德国,该价格需加19%的增值税)
FAIRWEATHER FIELD EMITTERS starting from €290. – (*prices plus 19% VAT in DE; required user agreements needed). 好天气场致发射器-起始价290欧元-(*在德国,价格加上19%的增值税;需要用户协议)。
ON-SITE MAPPING of home and business electronics to locate harmful EMF signatures, useful to plan best position them to minimize harmful effects. 家用和商业电子设备的现场成图,可以定位有害的电磁场特征,有助于规划最佳位置,以尽量减少有害影响。
PERSONAL WEATHER & EMF SENSITIVITY TESTS: Using our Meridian feedback research tools, EMF-sensitive people may experience a variety of symptoms, Physical and mental. Tests can Indicate sensitivity to specific Devices such as cell phone, wi-fi. 个人天气与电磁场 敏感性试验:对电磁场敏感的人群使用我们的经络反馈研究工具后可能会产生各种身体和精神上的症状。敏感性试验可以测试人们对诸如手机、无线网络等特定设备的敏感性。
Support for "The Astronaut"
Fk-e.de supports the Crowdfunding Campaign for the first German astronaut; therefore the campaign was only successfully completed. We intent to work together regarding our EMF neutralizing devices (MHR's). F.M. König (middle position) is showing his actual publication at "raum und zeit" No. 208.
我们开始与德国"宇航员运动公司"共同合作,于2020年在欧洲国际空间站看到第一位"女太空人",他们仍然得到我们的支持或赞助,并将在我们的产品上得到支持! 2017年7月的新闻。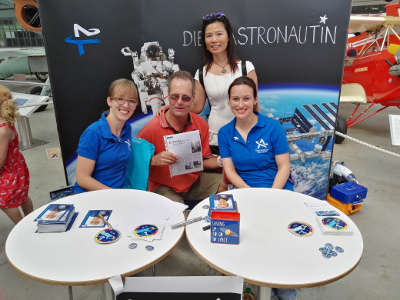 CONTACT US
Don't hesitate to CONTACT US (in China by Mr. Chen 18969712615……yinhexingyu@foxmail.com……376024481@qq.com regarding your individual offer or quotation.
联系我们
不要犹豫,马上与我们联系关于你的个人提供或者报价。 中国联系代表人: 陈建权18969712615 或电子邮件, yinhexingyu@foxmail.com或376024481@qq.com, 德国总部info2@fk-e.de
25 Years Experience and Expertise with these prominent companies -> Reference customers:
PRIENAMED (Dr. Kay Polonius) + Dr. Marianovicz doctors house / hospital, BASIC BIO AG, Prodacta AG, ANTENNE BAYERN, DKNY and Other well-known clients.
关于出价或报价,请随时联系我们(在中国,联系人是陈先生18969712615...... 信息2)。 25年的工作经验 (专业知识),在下列杰出的公司工作  参考客户:
PRIENAMED (Dr. Kay Polonius) + Dr. Marianovicz doctors house / hospital、BASIC BIO AG、 Prodacta AG、ANTENNE BAYERN、 DKNY和其他知名客户。 Finally we are proud and honored to be sponsored by the German Government regarding our research project in 2016 by the "Bayern Innovativ GmbH". 最后,我们对于德国政府赞助我们(Bayern Innovativ GmbH)在2016年发起的研究项目感到非常自豪和荣幸。
*Current integrity
*Accountability for content: We cannot guarantee the contents' accuracy, completeness ortopicality. As well web links and copyright information in this brochure are subject to change. Please refer to fk-e.de or sferics.eu for current links and up-to-date news about our products and research.
*诚信
*内容问责:我们无法保证内容的准确性和诚信。该手册中的网络链接和版权信息可能会有变更。关于我们的产品和研究的当前链接及最新新闻,请参见fk-e.de或sferics.eu。
*Notes: The acquisition of the doctoral degree "Dr. Sc.," is not common in Germany and was certified on a dissertation at an US University in 2004; more on www.sferics.eu (VITAE) and in a book "Die Natur braucht Chaos", ISBN 978-3-89539-712-7. *注:在德国不容易获得"科学博士"学位,2004年在一所美国大学的一场学术演讲上认证了该学位;欲知更多信息,浏览www.sferics.eu(VITAE)和书籍"Die Natur braucht Chaos" ISBN 978-3-89539-712-7。